Amelia will be bred in 2021. We are expecting high drive puppies that will excel in agility, disc, dock, flyball, and obedience. Puppies will be rough coated and black and white or tricolor. Puppies will be registered through AKC. We are so excited for this pairing and can't wait to see what they produce!
This Litter List is currently FULL
G Force Flyin' Over the Atlantic ATD TKA DMA DE DDBE DDS CGC HDS HDN AS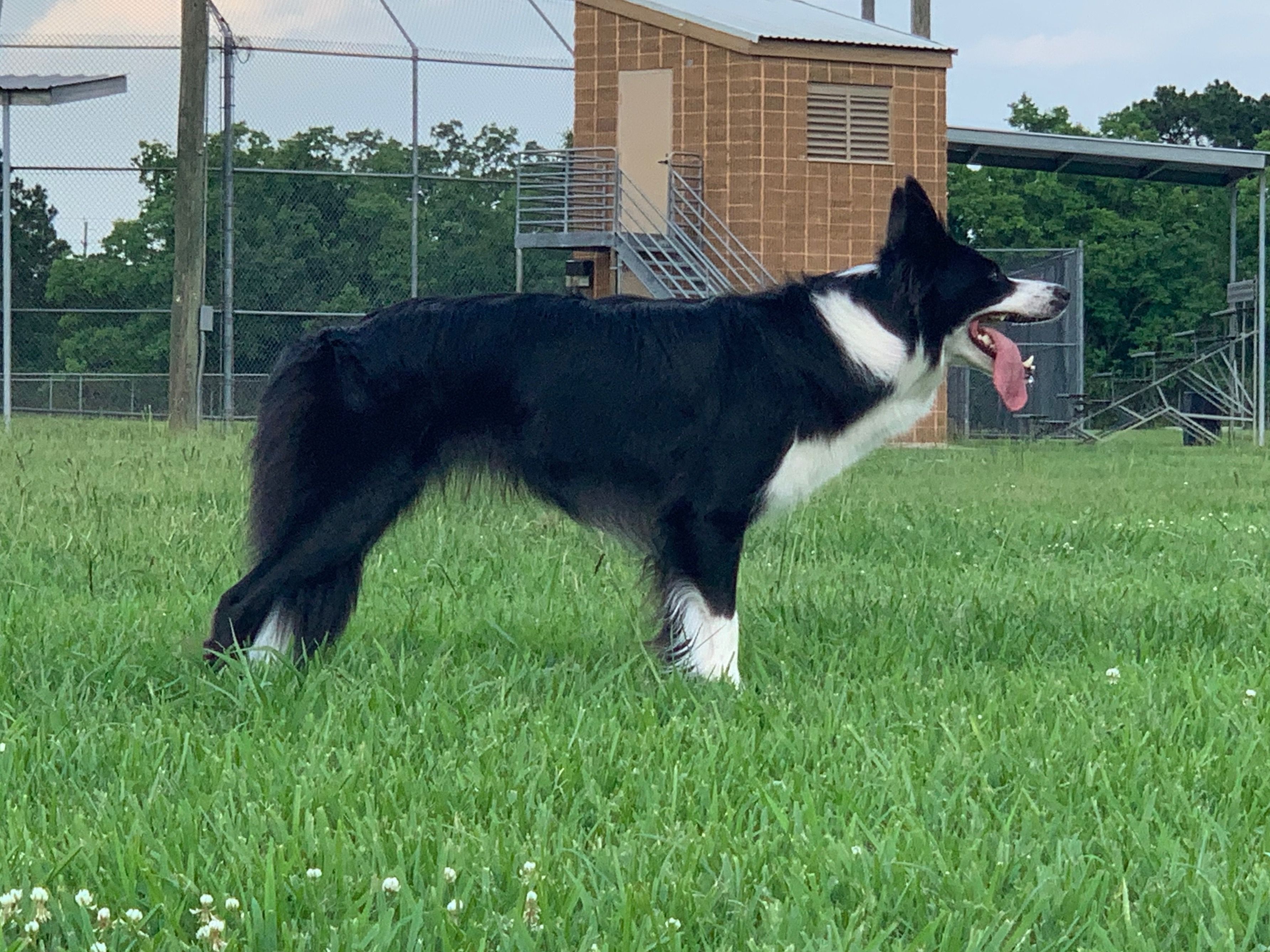 Date of Birth: 3/30/2018
Color: Black and White (Genetically a merle)
Coat: Rough
Height: 20 inches
Weight: 33lbs

Health Testing (Click HERE to go to OFA)

CEA/CH: Carrier
TNS: Normal
CL: Normal 
IGS: Normal 
DM: Normal 
MDR1: Normal 
SN: Normal 
GDD: Carrier
BCG: TBD
EAOD: Clear

BAER: Normal
CERF/CAER: Normal/Clear
Cardiac: TBD
 
OFA Hips: Excellent
OFA Elbows: Normal
OFA Shoulders: Normal
OFA Patellas: Normal
Here is what her owner, Madi, has to say about Amelia:
"Amelia is my first border collie that I got as a birthday present for me to get into performance events with. Over the past few years, she has quickly exceeded my expectations and excelled at everything I have thrown at her including disc and dock (with hopes of agility!) We signed up for puppy obedience classes and I quickly learned this little girl was pure genius and that I was going to have to really work hard to catch up to her. Even as a puppy, Amelia was a happy and easy girl, and handled everything in stride. She even made her first long car trip at just 6 months old and was a model citizen. She got to meet new people and learned to settle at events at a young age, which she has retained over the years. In the house, she has an amazing off switch. Her favorite activity besides sports is definitely snuggling with dad! She has never met a stranger and loves ALL the pets and she is amazing with kids and dogs of all sorts. Amelia debuted in her first ever disc event in October of 2018 and by March of 2019, had taken multiple placement medals in Disc. Shortly after she turned one, she took second in Toss & Fetch and earned her first ever world qualification for Skyhoundz! She started training in dock diving in May of 2019 and debuted in her first dock event in July earning her Dock Master title while also earning her Personal Best of 24'0"! Qualifying for multiple worlds finals, traveling to many new places, and meeting SO MANY new people and dogs. She's definitely my best companion and I'm so glad to have her through the highs and the lows, and can't wait to continue to watch her grow and see where we go."
Rafter W Texas AM ASX BCAT DMX DEX DDB HDMA HDSA HSAs OA OAJ XF TKE CGCA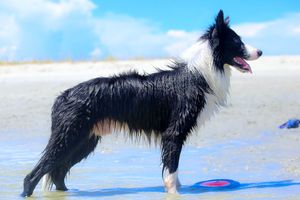 Date of Birth: 4/6/2012
Color: Black and White
Coat: Rough
Height: 20.5 inches
Weight: 36lbs


Health Testing (Click HERE to go to OFA, HERE for Paw Print Genetics)

CEA/CH: Normal through Optigen
TNS: Normal through Optigen
CL: Normal through Optigen
IGS: Normal
DM: Normal
MDR1: Normal
SN: Normal
BCG: Normal
EAOD: Clear

CERF/CAER: Normal
Cardiac: Normal

OFA Hips: Good
OFA Elbows: Normal
OFA Shoulders: Normal
OFA Patellas: Normal
PennHIP: 80th Percentile
Tex is our phenomenally talented, handsome, driven and sweet, adrenaline junky of a boy! I was lucky enough to be blessed with Tex as my first border collie, he has been an amazing team mate and partner and I am so lucky to have him in my life. His drive, determination and athleticism compliment his sweet, funny spunky nature. Tex has always been a character, in puppyhood he was thoughtful and wise, as an adult he remains brilliant and driven, but with a goofy confidence about him. . He matured quickly, eager to try every new activity, sport, exercise and task I threw at him. Tex could easily be described as an "over achiever", he was a prodigy as a puppy, quickly grasping any exercise or task. He began competing in Dock Diving at only 5 months old, achieving jumps over 13 feet! In his first Skyhoundz disc competition at 14 months old, he earned an invite to the Skyhoundz World Championships by winning Bullseye with a score of 52 points. Soon, Tex was unstoppable in many different venues. Tex currently trains and competes in Agility, Dock Diving, Herding, Canine Disc and Rally Obedience. He is a phenomenal demo dog and is used regularly to help teach group obedience and behavioral lessons. Tex is also my main "show stopper", as a professional dog trainer, it is a huge benefit to me to have a dog like Tex who is so reliable, enthusiastic and down right flashy in his obedience, tricks and working ability. He loves to show off and loves to make people smile. Tex is always my last dog (the show stopper!) to use any time we perform a demo, perform at half time shows or entertain anyone. There is no atmosphere that he can't work in, fairs, schools, expos, andbasketball games with bands; Tex has done it all.  He absolutely loves working with his mom and performing, one of his favorite parts of our show is when he gets to play frisbee with kids! He is always eager to play, but incredibly gentle when he returns the disc to them and will even place it right in their hands! The crowds always love Tex's favorite trick, the handstand, and Tex runs faster and jumps higher when he's performing in front of a crowd!
RockingMPrairie ABC 239635

Augustus McCray DN 18298001

Tani Maras Bolee ABCA 90545

Gold's Emerald ABCA 166644

G FOrce Nevaeh DN17556101

Visions Diamond Girl DN42497301

Bayshore Avatar Incantation DN24660001

CH Bayshore's Under My Spell DL86213907

CH Bayshore's I Am What I Am DL90829101

Diamond T Bell DN28504903

Visions Heavenly Hope DN11212606